Shepherd's Huts
Self-catering Shepherd's Huts for groups in SHROPSHIRE
Skip to Content
Shepherd's Huts
Self-catering Shepherd's Huts for groups in SHROPSHIRE
Brand new for 2022! – Self-catering Shepherd's Huts for groups
Set in the tranquil Shropshire countryside, these handcrafted Huts were designed with your comfort in mind.
Not to mention the accompanying Sheep Barn and Spa have everything you need to kick-back, relax, or party the night away.
Our Huts – The ultimate sleepover site for big kids!
Built and decorated with a light, airy interior, each hut contains one luxurious king-size bunkbed, its own ensuite shower room, a kitchen counter and built-in seating area.
Also, in between the Huts is a purpose-built picnic area that's great for hosting pre-party cocktails, or a refreshing round of cuppas in the morning.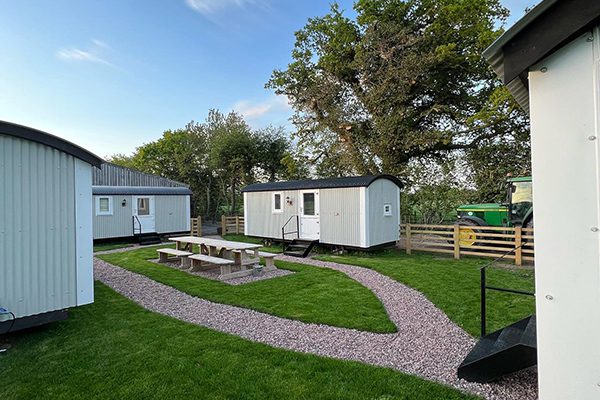 The Sheep Barn
Just a few steps from your cosy accommodation is our brand-new Sheep Barn and Spa.
This private communal space is home to a stunning kitchen-diner with a real log-burning stove, and a sheltered courtyard with its own luxury hot tub, w/c and seating area.
Inside the Sheep Barn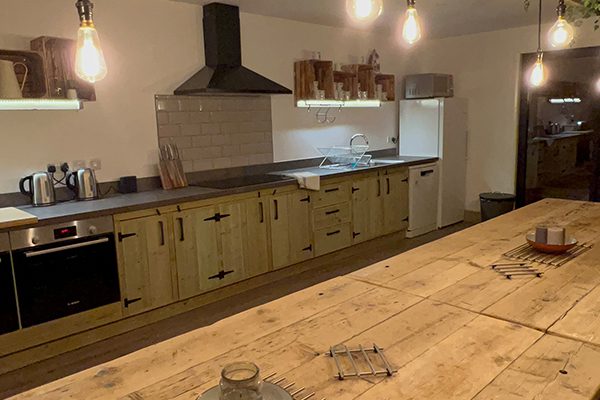 They say the kitchen is the heart of the home, and for the chefs among your group, The Sheep Barn's modern farmhouse-style kitchen is a dream. With one full-length fridge, two ovens, one large hob, a dishwasher, freezer and more, you're free to cook and cocktail to your heart's content.
Plus, there's tons of space between the extra-large dining table and surrounding sofas for everyone to chill out, play games and put the world to rights together.
Sheltered Courtyard
If cosying up indoors isn't your thing, perhaps you'd prefer a dip in the Sheep Barn's outdoor luxury hot tub, before dining alfresco beneath the warm festoon lights in the sheltered courtyard, or blasting those party tunes beneath the stars?
However, you choose to celebrate, our Sheep Barn and Spa has you covered all year round.
WHAT I NEED TO KNOW
Free parking on site for up to 8 cars per group, per accommodation
All fresh bedding, towels (1 per person) and bath mats are provided.
Strictly no dogs allowed – we're a working farm with livestock animals on-site and so cannot allow other pooches in.
Please refer to our Terms & Conditions for all your information.
ACCESS STATEMENT
CARS: Parking for how many cars is available. The ground here is slightly uneven so please drive carefully.
UNIT ACCESS SHEPHERD HUT: Details coming soon…
UNIT ACCESS SHEEP BARN: Details coming soon…
FIRE EXIT: Details coming soon…
If you have any further questions about our accommodation or accessibility, please don't hesitate to ask!
BOOKING ENQUIRY