THE PIGSTY
Just stone's throw away from The Cow Byre and The Shephard's Lodge, across our sheltered courtyard, is The Pigsty – a cosy bunk-room featuring four solid-wood bunk-beds and a luxury wet room.
The Pigsty is an add-on to main accommodation bookings that sleeps 8 people and can't be booked on its own. We may allocate the Pigsty to larger groups when necessary, e.g:
(The Cow Byre + The Pigsty sleeps up to 20 people)
(The Shepherds Lodge + The Pigsty sleeps up to 32 people)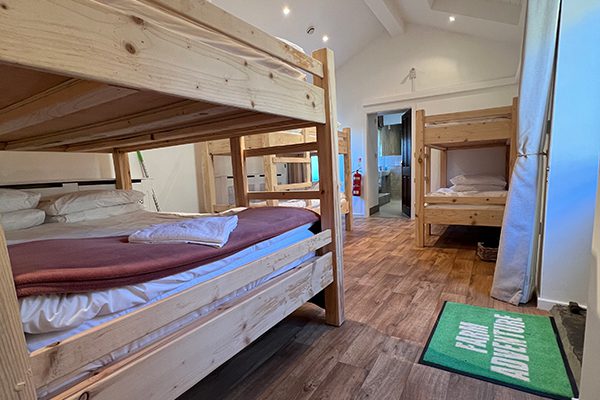 OTHER IMPORTANT ACCOMODATION INFORMATION
Free parking on site for 8 cars per group, per accomodation
*The Cow Byre, Shephard's Lodge and Pigsty are allocated by us, based on the size of your group. They are equally stunning and loved by all the groups who have visited us over the last 10 years.
Strictly no dogs allowed – we're a working farm with over 350 livestock animals on-site and so cannot allow other pooches in (although, if a furry, four-legged embrace is something you crave, our resident farm-pup, Connie, is happy to bestow cuddles on anyone willing to accept them).
To book your farm Adventure experience, email us: info@farmadventure.co.uk, or call us on: 01765 689 007
Accommodation can only be booked with a group activity package or a farm stay experience.
BOOKING ENQUIRY