The Ultimate Shropshire Hen Party Experience
Mums, daughters, sisters, besties – come together for the bridal celebration of a lifetime.
Skip to Content
The Ultimate Shropshire Hen Party Experience
Mums, daughters, sisters, besties – come together for the bridal celebration of a lifetime.
If you're looking to plan the most incredible hen party ever…
Something completely unique, with a twist, that everyone can get stuck into*
Something to leave you all in side-splitting laughter, for hours on-end
Something that gives the bride-to-be memories she'll cherish forever
You're in the right place.
A unique outdoor experience for hens who like to do things differently
Between our wild and wacky farm-based activities, to our luxurious self-catering group accommodation, Farm Adventure Shropshire has everything you need, all in one place, to host the bridal celebration of a lifetime. The farm is actually located just over the border in North Wales – yes a small part of Shropshire is located in North Wales….. who knew!
* Although we've worked hard to make our farm as accessible as possible, much of the ground here is extremely uneven which, unfortunately, makes us inaccessible for some people with mobility issues. Please let us know of anyone who may have accessibility issues before booking. Minimum age limit for access to the farm is 17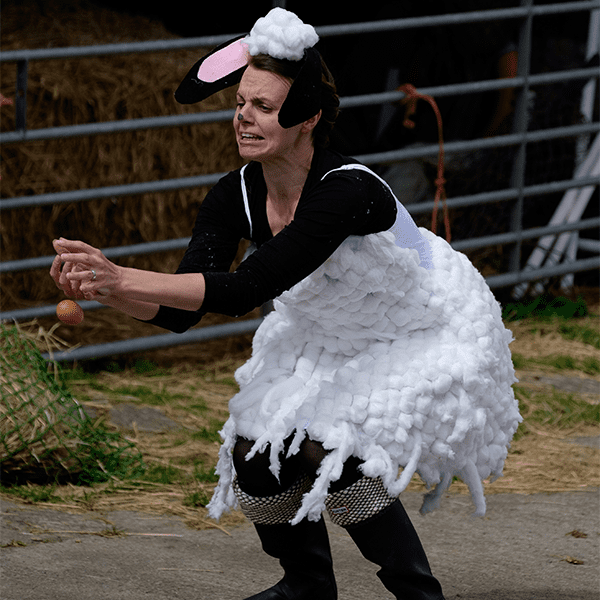 HEN PARTY ACTIVITY PACKAGES
We offer 2 activity packages to choose from
Enjoy over two hours of side-splitting laughter as your hen party group competes in teams to overcome our wacky, farm-inspired obstacles
(think Total Wipeout but smack-bang in the middle of the countryside surrounded by live animals, tractors, and straw bales…)

FARMER
WARRIOR
For those who are super competitive

Sheep Gathering
Tractor Driving

Greasy Pole

Pig Herding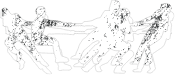 Tug O War

Farmer Olympics

ULTIMATE
FARMER
Our most popular activity package

Sheep Gathering
Tractor Driving

Egg Throwing

Pig Herding

Welly Wanging

Farmer Olympics
BBQ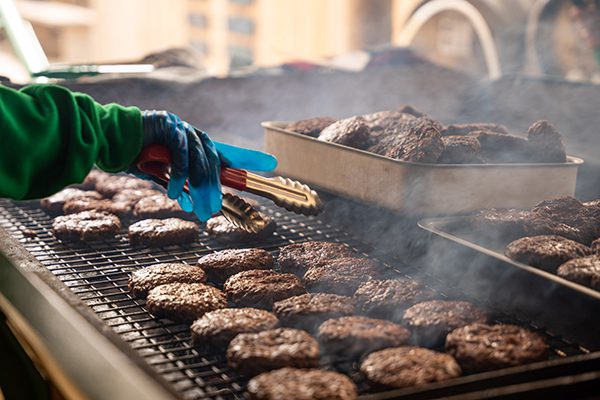 After mucking around on the open hills all morning, there's nothing sweeter than the smell of a freshly lit BBQ to welcome you back…
Our delicious, flame-grilled bounty is fit for farming royalty – packed with home-reared pork sausages, juicy Hereford beef-burgers, veggie burgers (cooked separately), soft-white buns, and the nation's favourite condiments.
If you book the Muck & Manners or Muckier Manners package, the BBQ is already included and complimentary. If you're just visiting us for the day activities but fancy a hearty meal before you leave us, you can add our popular BBQ!
GROUP ACCOMMODATION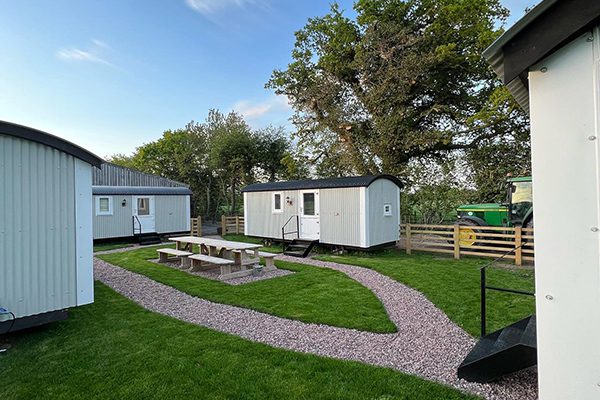 Hand-made self-catering Shepherd's Huts for groups of up to 16!
Set in the tranquil Shropshire countryside, these gorgeous Huts were designed with your comfort in mind.
Not to mention the accompanying Sheep Barn and Spaaa have everything you need to kick-back, relax, or party the night away.
SHEPHERD'S HUTS SHROPSHIRE
 BOOKING & PAYMENTS
If you would like to book your Hen Party at Farm Adventure, or you have any questions about the activities, packages, and pricing, email us at: info@farmadventure.co.uk or give us a call on 01765 689 007. If we're online now, grab us for a chat!
Our friendly team are happy to help.
If you are just visiting us for The Day Activities, we require full payment upfront.
If you are booking one of our All-Inclusive packages, we require a deposit from each individual wishing to secure a place, upfront. We will email you details of the balance payment, and when this is due. Please remember, once you confirm numbers when you pay the deposit, if numbers drop, refunds will NOT be given.
All payments are non-refundable. See Terms & Conditions for further details.
Payments can be made by card or bank transfer.
BOOKING ENQUIRY
Happy Customers – Online Reviews