The Shepherds Lodge
A stunning barn conversion for groups in NORTH YORKSHIRE
Skip to Content
The Shepherds Lodge
A stunning barn conversion for groups in NORTH YORKSHIRE
Luxury self-catering farm accommodation for groups
Sleeps a maximum of 24 people
This stunning barn conversion at our North Yorkshire Hill Top Farm boasts a beautiful blend of rustic countryside character and modern charm. The open, airy design and sprawling countryside views makes it a truly uplifting place, with ample room for your whole group to kick-back and relax or party the night away together.
DOWNSTAIRS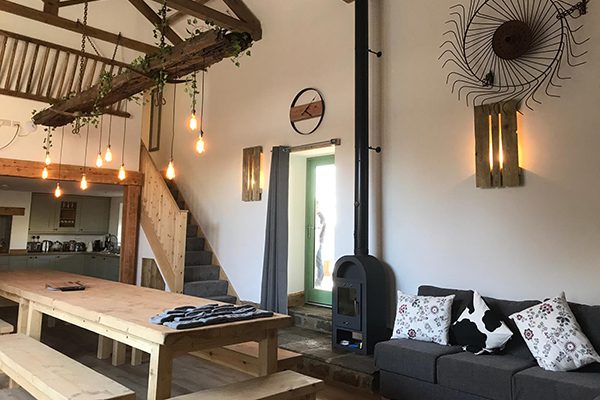 On the first floor, The Shepherd's Lodge features a large, open plan kitchen-dining area that's perfect for cooking (or cocktailing), and gathering en-masse.
There's plenty of room between the solid-wood dining table and cosy corner sofa for everyone to eat, drink, play games and have a blast, before settling in for a brilliant night's kip.
The Parlour: This large downstairs bedroom features 4 solid-wood bunkbeds and access to two luxury wet rooms, plus an extra ensuite shower room (sleeps 10).
KITCHEN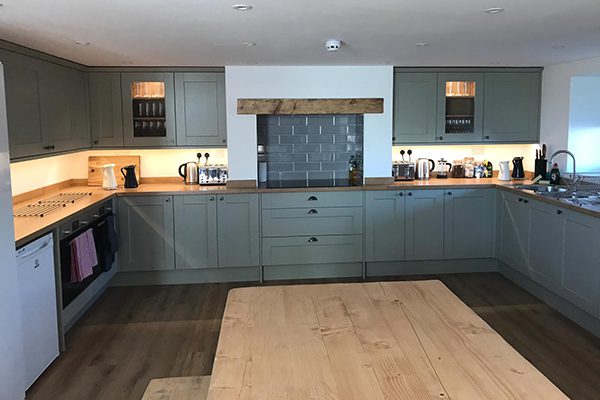 As with any great self-catering accommodation, our Lodge's modern, farmhouse-style kitchen has everything you need to whip up a royal feast for yourself or others, morning, noon and night*.
With one tall fridge, an undercounter freezer, two ovens, a large ceramic hob, two stainless-steel sinks, a dishwasher and tons of cupboard space, there's no such thing as 'too many cooks' in this kitchen!
LIVING AREA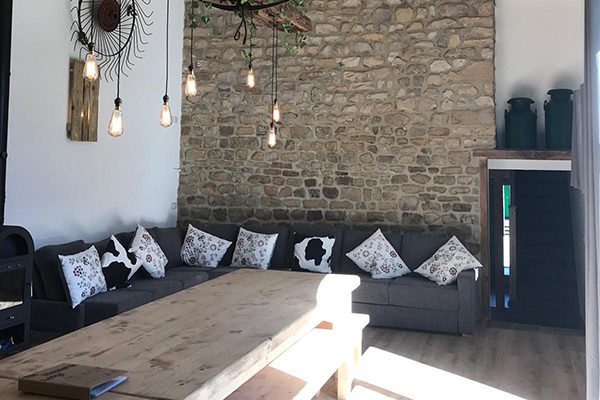 Opposite the kitchen on the ground floor, a soft corner-sofa and wood-burning stove frames the Lodge's popular centrepiece – a solid, handcrafted dining table and chandelier decorated with festoon lighting and foliage for a cool, relaxing atmosphere.
This part of the ground floor is also great for slugging out in front of the Smart TV, or basking in the crystal-clear views of our everchanging countryside scenery.
UPSTAIRS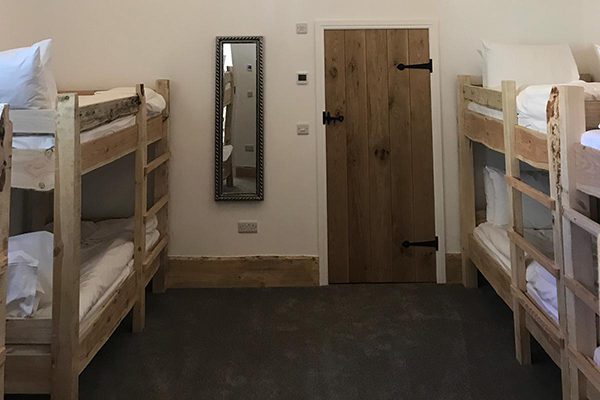 On the second floor, a soft-carpeted landing connects two cosy bedrooms…
The Hayloft: One super king size bottom bunk bed with single top bunks; two sets of single bunk beds; two wet rooms, and a stunning ensuite with glass-enclosed waterfall shower (sleeps 8).
The Granary: 3 luxury, solid-wood bunkbeds; identical modern ensuite with glass-enclosed waterfall shower (sleeps 6).
OUTSIDE PATIO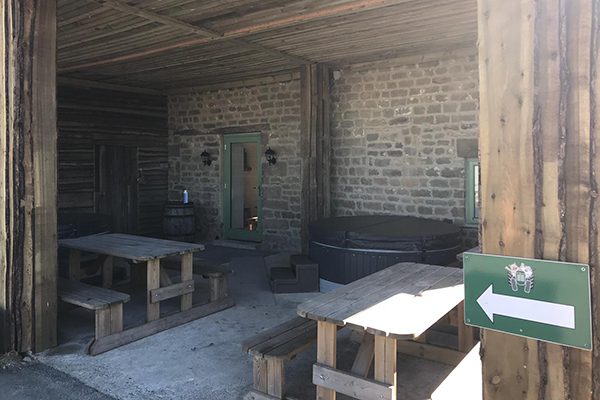 On the Shepherd's Lodge patio – accessed via the ground floor – your group will have exclusive access to two luxury, sheltered hot tubs* and a private seating area.
Pair those warm, rolling bubbles with our beautiful countryside views and you might just think you're in heaven!
* Each hot tub seats 5 adults comfortably.
THE PIGSTY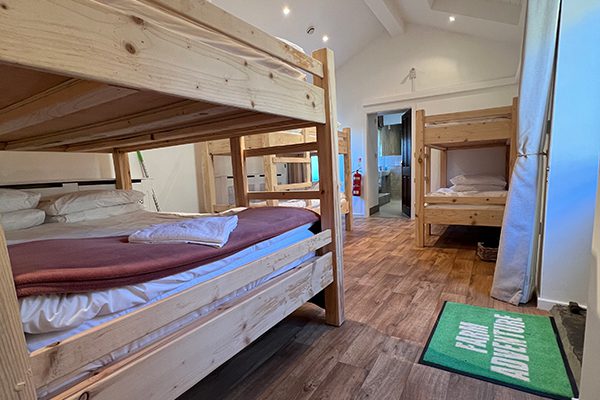 Just stone's throw away from The Shepherd's Lodge, across a small, sheltered courtyard, is The Pigsty. This cosy bunk room features four solid-wood bunk-beds and its very own luxury wet room.
Sleeps 8 people
The Pigsty is an add-on to main accommodation bookings and can't be booked on its own. We may allocate the Pigsty to larger groups when necessary.
 WHAT I NEED TO KNOW
Free parking on site for up to 8 cars per group, per accommodation
Our fabulous, eco-friendly wood chip boiler means there's ample hot running water throughout the accommodation 24 hours a day.
All fresh bedding, towels (1 per person) and bath mats are provided.
Strictly no dogs allowed – we're a working farm with over 300 livestock animals on-site and so cannot allow other pooches in.
Your accommodation unit will be allocated by the Farm Adventure team 2 weeks prior to your arrival. Please note we allocate accommodation based on a number of factors including availability and group size.
Please refer to our Terms & Conditions for all your information.
If you have any further questions about our accommodation or accessibility, please don't hesitate to ask!
BOOK THE SHEPHERDS LODGE
ACCESS STATEMENT
CARS: Parking is available at reception and / or in The Stack Yard car park, just metres from the accommodation.
UNIT ACCESS: there are 3 main entrances to the accommodation. The primary entrance is through a door with a small step up, followed by two stone steps down into the accommodation. There is a second, wheelchair friendly entrance to the accommodation which features wide-opening doors, approached by a hardcore slope. This second entrance also gives quick access to the downstairs toilet & shower facilities. The third entrance is round the back of the accommodation, via an uneven concrete yard and steps.
FIRE EXIT: The three above access points are all fire escape exits and are clearly signposted within the accommodation. All fire procedures are explained in the welcome pack provided upon arrival. There are also two fire exits for the Pigsty Bunk room.
The pigsty: A ground floor single bunk room, accessed via a solid concrete courtyard with a small step into the room.
DOWNSTAIRS: Features an open-plan kitchen, dining and lounge space with flat, solid flooring. 'The Parlour' bedroom on the ground floor features carpeted flooring and has 1x ensuite bathroom. Two additional separate wet rooms are also accessed via a few stone steps down from the main ground-floor area.
UPSTAIRS: Both bedrooms are accessed by separated staircases (The Granary a staircase to above the kitchen, and the Hayloft at the opposite end of the building via a different set of stairs) – both staircases are carpeted and lead directly into their respective bedrooms. The larger of these two rooms has direct access to the downstairs wet rooms as they sit at the foot of this staircase. The smaller of these bedrooms has its own ensuite wet room.