The Cow Byre
A luxury farm cottage stay for groups in NORTH YORKSHIRE
Skip to Content
The Cow Byre
A luxury farm cottage stay for groups in NORTH YORKSHIRE
Luxury self-catering farm accommodation for groups
Sleeps a maximum of 12 people
This idyllic home-away-from-home farm cottage at our North Yorkshire Hill Top Farm is brimming with countryside charm and character. From the beautiful, rustic beams spanning the smooth, spot-lit ceilings, to the cosy wood-burning stove and luxury bunkbeds, everything about The Cow Byre wraps its arms around you, the moment you step inside.
DOWNSTAIRS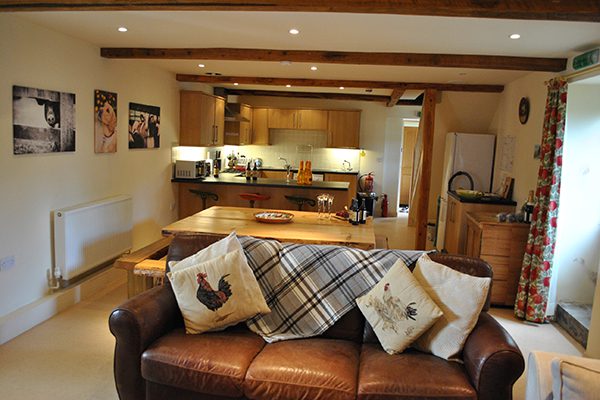 On the first floor of The Cow Byre is a beautiful, open-plan kitchen-diner and lounge area that's perfect for cooking (or cocktailing) en-masse.
There's plenty of room between the breakfast bar and handcrafted dining table for your whole group to come together and celebrate over good food and games.
*For all your self-catering needs, the Cow Byre's lovely, farmhouse-style kitchen has everything, including: one tall fridge, chest-freezer, plenty of cupboard storage, dishwasher, cooker oven, and two stainless steel sinks.
SNUG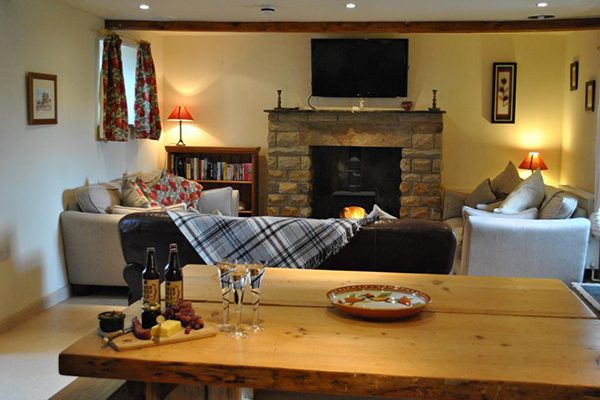 For those who prefer a quieter scene, also on the ground floor is the cosiest living area – equipped with a set of plush sofas, super-soft blankets, a real wood-burning stove and a Smart TV (yes, Netflix IS available), it's the perfect place to kick-back and relax, or snuggle in for a good old movie and pamper session.
UPSTAIRS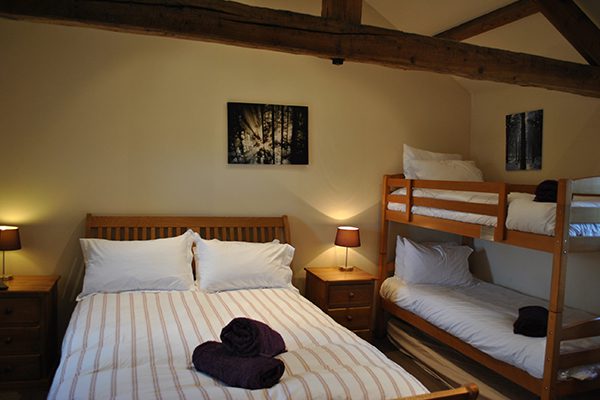 On the second floor, a private carpeted landing connects two cosy bedrooms…
Master bedroom: One king-size bed; two luxury, solid-wood bunk beds; a stunning ensuite with glass-enclosed waterfall shower.
Second bedroom: 3 luxury, solid-wood bunkbeds; identical modern ensuite with glass-enclosed waterfall shower.
FRONT PATIO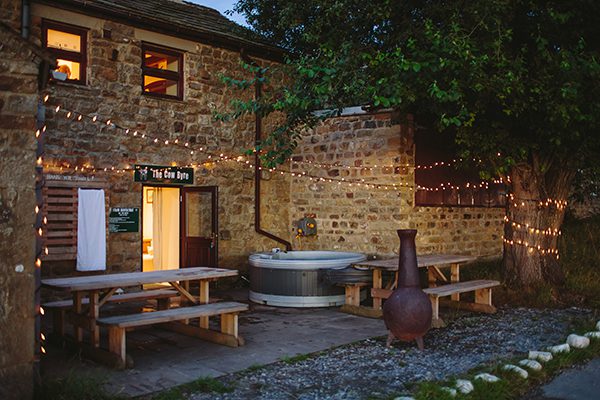 At the front of the Cow Byre, you have exclusive access to an outdoor patio with two luxury hot-tubs* and incredible 360 hilltop views…
Pair those warm, rolling bubbles with this stunning scenery and you might just think you're in heaven!
And for those who don't fancy a dip, there's a lovely seating area beside the tubs, accompanied by a toasty chimenea stove to keep you warm on even the coolest of nights.
*Each hot tub seats 5 adults comfortably.
THE PIGSTY
Just stone's throw away from The Cow Byre, across a small, sheltered courtyard, is The Pigsty. This cosy bunk room features four solid-wood bunk-beds and its very own luxury wet room.
Sleeps 8 people
The Pigsty is an add-on to main accommodation bookings and can't be booked on its own. We may allocate the Pigsty to larger groups when necessary.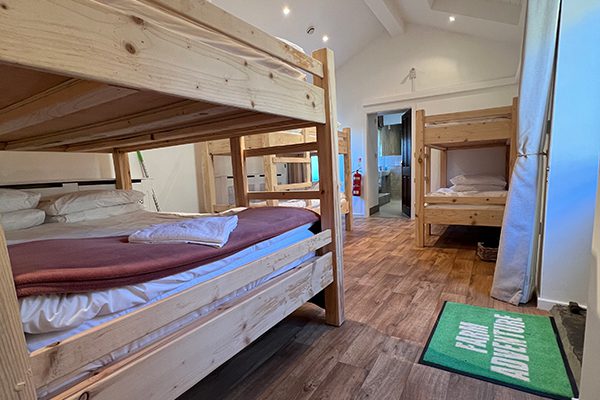 WHAT I NEED TO KNOW
Free parking on site for up to 8 cars per group, per accommodation
Our fabulous, eco-friendly wood chip boiler means there's ample hot running water throughout the accommodation 24 hours a day.
All fresh bedding, towels (1 per person) and bath mats are provided.
Strictly no dogs allowed – we're a working farm with around 300 livestock animals on-site and so cannot allow other pooches in.
Your accommodation unit will be allocated by the Farm Adventure team 2 weeks prior to your arrival. Please note we allocate accommodation based on a number of factors including availability and group size.
Please refer to our Terms & Conditions for all your information.
If you have any further questions about our accommodation or accessibility, please don't hesitate to ask!
BOOK THE COW BYRE
ACCESS STATEMENT
CARS: Parking is available a stone's throw from your accommodation. The ground here is slightly uneven so please drive carefully.
UNIT ACCESS: There is one main access point to the accommodation's ground floor, via a small step.
FIRE EXIT: The main access point is also the fire exit for the ground floor of the accommodation. There's an additional fire exit on the first floor. All fire procedures are explained in the welcome pack provided on arrival. There are also two fire exits for the Pigsty Bunk room.
THE PIGSTY: A ground floor single bunk room, accessed via a solid concrete floor with a small step into the room.
DOWNSTAIRS: Features an open-plan kitchen, dining and lounge space with flat, solid flooring.
UPSTAIRS: A carpeted staircase leads to the first-floor landing which provides access to the Cow Byre's two bedrooms, both with ensuite shower rooms. A safety gate is in place is at the bottom of the staircase and a solid-wood door is at the top.
FOR GROUPS OF 25 TO 36, BOOKING BOTH BARNS WOULD BE REQUIRED (COW BYRE and SHEPHERDS LODGE), AND WITH THE ADDITION OF THE PIGSTY FOR 37-44 PEOPLE.
ENQUIRE WITH THE TEAM NOW!